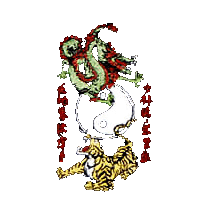 At once a remarkable scholar, practitioner and teacher, Hanshi Armstrong began his career in Yokohama in 1957, stationed with the US Air Force, where he laid the foundations for his art and style. He studied Shotokan Karate, and later returned to the states and learned and practiced with studied with noted kenpo and karate practitioners, eventually branching into traditional Chinese martial arts and studying taijiquan with the late T.T. Liang.
Hanshi Armstrong founded Ten Chi Kenpo in 1974 and worked out a comprehensive system of training and martial arts, founded on the best traditions and techniques, unique in its synthesis and its practicality and adaptability.
In all things, Master Armstrong was a pioneer, participating in the first mixed-race martial arts tournaments in Boston in the sixties and seventies, and studying with practitioners of all races and all cultures. In turn, he taught students of all races, nations and sexes, holding only to his own high standards.
A life-long "violence professional" as a bouncer, private investigator, bodyguard and more, he held that the practice of his art was a higher calling than the application of his skills, but both had to be as close to perfection as possible.
A man of extraordinary presence, and a gifted educator; a despiser of charlatanry, hufflestuff, rigmarole, and lack of rigor, both intellectual and physical, Master Armstrong embodied all the virtues and discipline he taught to others; he drove himself to be always better educated and better skilled at his art. He led by example, a formidable presence that remained superior even into his later years. He embodied the warrior spirit, serene but unwavering in all things, while a twinkle was never far from his eye and ribaldry from his lips when class was not in session.
Tough as an iron rod, merciless in his instruction and honest in a way that could not be mistaken, Norman made his art, our art, his salvation. He knew, and lived, that despite all the terrible things one can see and live through in a lifetime, you can conquer violence by conquering your self. Modest in person (never modest on the floor), he was never bitter, never rude, and never mean. Through a lifetime of violence and a lifetime of martial training, he learned, and taught, that the salvation of one was the other, and that was the true end of continuing the practice. His lesson was heard and remembered, and he will be sorely missed.
Master Norman Armstrong was my Tai Chi Chuan sensei for the last almost 3 years since he moved to Palm Springs from Ontario, California. During that time, he was striving to perfect the soft martial art component of Ten-Chi Kenpo. Even with the hard martial art component, Karate, which progresses from a single technique to Kata, Kumite and free sparring, he was creating the two-person forms in both the Tai Chi solo form and the weapons. After the solo form, we learned Talu, San-shou, then started the Cane form to the two-person Cane form, Saber to two-person Saber, Sword to San Cai Jian. We were working on the two-person Bo when he passed away.
Even when he was often in pain and fatigued with his cancer and chemotherapy during the last year, he worked to complete his masterpiece, Ten-Chi Kenpo, with the two integral parts, the hard and the soft martial arts.
Norman said, "When I left the States at age 17 to join the Air Force, I was a boy weighing only 120 pounds. I got bullied a lot. When I saw Karate in Japan, I realized that the size didn't matter in Karate to win. So, I practiced every day for self-defense. By the time I came back to the States 3 years later, I was a man and nobody could bully me any more. You see, I got bit by the Karate bug then."
From this humble beginning, he became a national champion and founded his own martial art school and attained the tenth degree black belt. It was not easy. But, as all his students and friends (whom he considered his family) know, through good times and bad, Martial Art was his life. It sustained him and he wished that it would survive him.
In April, I will start my first teaching at Gilda's club where he taught Tai Chi Chuan to his fellow cancer patients, their families and caregivers. He will be immortal in every move I make as in Immortal Points the Way.
Akiko Stone
March 27, 2009
I am deeply sadden to inform the martial community about the passing of my instructor Norman Armstrong on March 12, 2009. I have lost a great friend, a mentor; a man who shaped my martial arts career in the United States. I owe a lot to this great man. He was my very first Karate-Kenpo Instructor in the United States. A man of great knowledge who taught so many people in Massachusetts, Rhode Island and California. Grandmaster Norman will be missed by his family, friends and martial arts students. With deep appreciation for your teaching dear teacher, I will always remember you. May your soul rest in peace, your art will live on.
Jean Theodat
March 13, 2009

Jean will periodically update his site elitetaekwondo.org Memoriam Section with pictures from his album.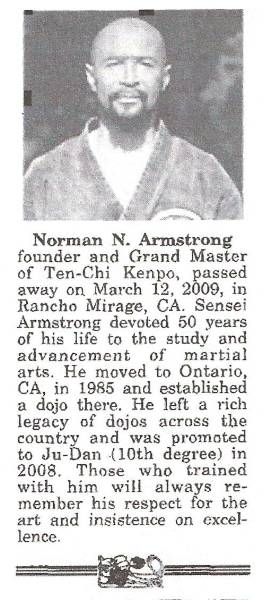 March 22, 2009
Inland Valley Daily Bulletin
Ontario CA
The Ten-Chi Kenpo family would like to thank Shihan John James for putting up a memorial announcement on
the Nick Cerio's Kenpo website: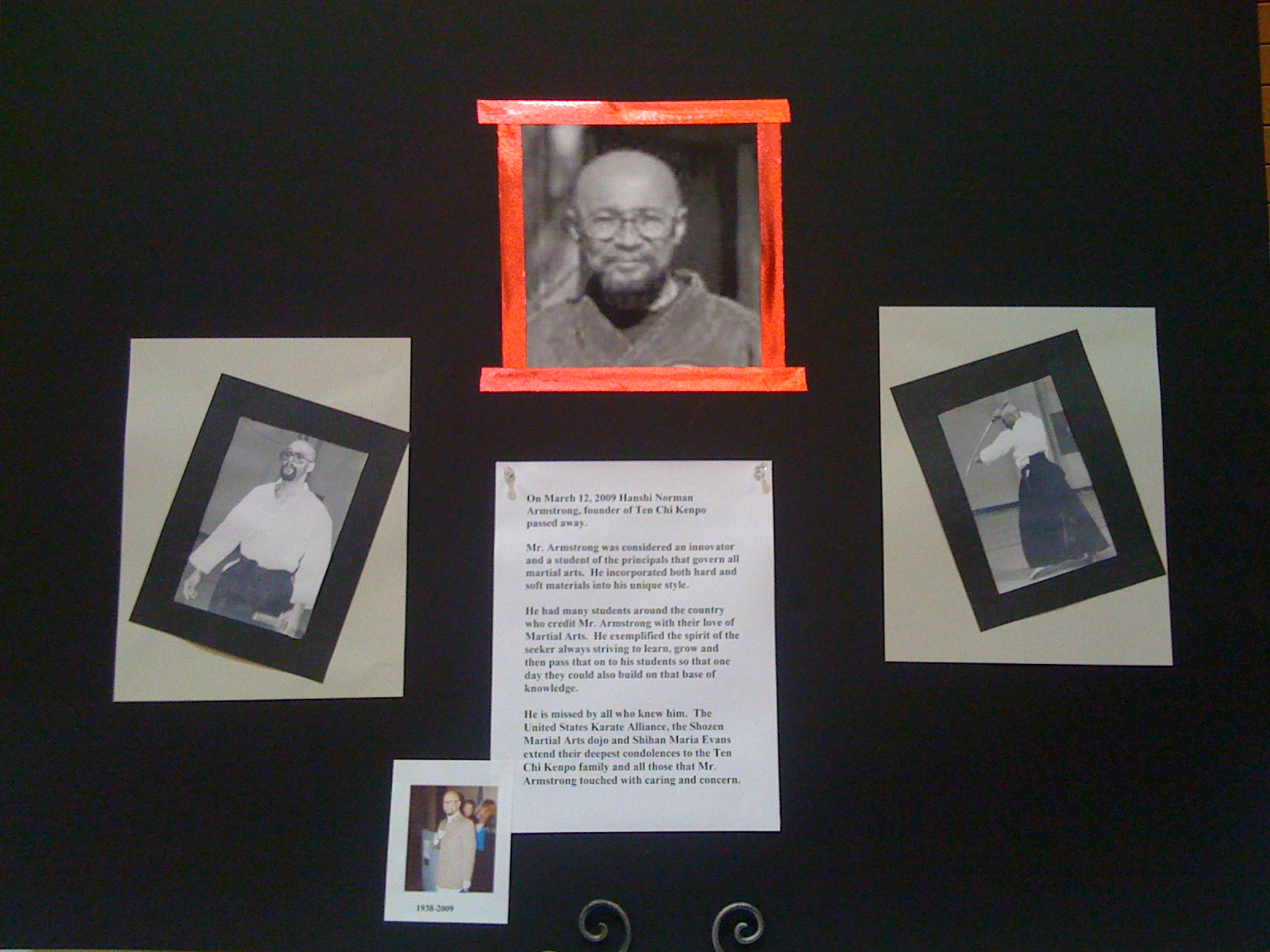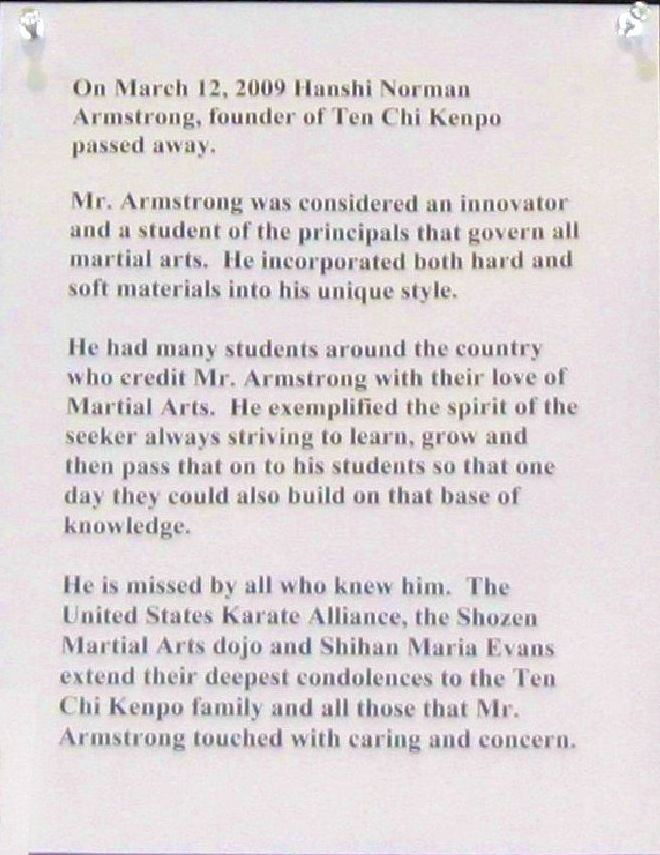 Display at the California State Championships Tournament
Riverside CA, August 22 2009

The Ten-Chi Kenpo family would like to thank USKA California State Representative Shihan Maria Evans and her staff for having a memorial stand for Grandmaster Norman Armstrong.


Elliott Edwards
November 06, 2009

Elliott Edwards, age 58, of Medway. Teacher and practitioner of martial and spiritual arts, passed away Friday, Nov 6, 2009 after a long battle with cancer. He was the son of the late Robert and Katherine (Ford) Edwards.

Elliott studied writing and literature at UMass-Boston. He was a staunch anti-Vietnam war activist and a proud environmentalist.

He worked as a journalist on Cape Cod, reporting on environmental issues, before turning to martial arts under the tutelage of the late Master Norman Armstrong.

Elliott taught and practiced karate, taiji and qigong, a lifelong scholar who gave freely of his learning, teaching the young and old in equal measure. He was a student of photography and a poet as well as a scholar of American literature and Chinese traditional medicine.

A civil war buff, he participated in reenactments with the 22nd Mass. Volunteer Regiment.

He is survived by his long-time companion, Linda Resner of Medway, his brother Bobby Edwards of Florida, devoted students and friends, and his cat, Marley, who loves to see the world in odd new ways, just as Elliott did.

Services will be private.

In lieu of flowers, donations to St. Camillus Health Center, 447 Hill St., Whitinsville, MA 01588.

currentobituary.com
and
November 8, 2009
The Boston Sunday Globe
Boston MA